On this show I review the new Runaways movie, talk about Edgeplay, the documentary on the Runaways and play a song from the soundtrack. I also play a couple of Douchebag clips of the week, do a Listening with Butler with a new song by Slash and lots more!
Music: [Read more]
Podcast: Play in new window | Download
Subscribe: iTunes | Android | RSS
Fans had to wait over 1 hour for Guns n Roses to take the stage last night in Lima, Peru. Sebastian Bach finished his set just after 11:00 pm and Axl and Co. took the stage at almost 12:30 am. By this time, fans were exhausted and feeling like they were taken and when GnR took the stage, the crowd began pelting the singer with cups and other crap. He stopped the song during the 1st song and brought an interpreter onstage to say:
"If you wanna throw shit, we will leave."
"We would like to stay and have fun with you for a long time tonight."
He then added, "So we're gonna have fun? Let's try that again."
Paul Westerberg wrote this about Alex Chilton in the New York Times on March 21st.
"Yeah, December boys got it bad, as "September Gurls" notes. The great Alex Chilton is gone — folk troubadour, blues shouter, master singer, songwriter and guitarist. Someone should write a tune about him. Then again, nah, that would be impossible. Or just plain stupid."
Wolfgang's Vault just added a classic from The Runaways from Jan 7th, 1978 at the Palladium, NYC. Although they list Cherie Currie as part of the band, this is actually from the Waiting for the Night Tour. Cherie had quit the band by this time and Joan Jett was handling lead vocals. You can tell she is nervous as a front person at this point. Drummer Sandy West sings Wild Thing but the rest of the lead vocals are Joan. This is a nice piece of history.
Tuning

Wasted

Blackmail

Queens of Noise

You're Too Possessive

Wild Thing

You Drive Me Wild

Wait For Me

I Wanna Be Where The Boys Are

I Love Playin With Fire

School Days

American Nights

C'mon

On Friday while at SXSW we went to the BMI stage to see Cheap Trick perform. I found out earlier in the day while at Flatstock, a poster show inside the Austin Convention Center, that Bun E. Carlos was not touring with them. A guy selling posters told me after I commented on the CT poster he was selling. About 5 minutes later, who do I see walking the floor? Only the greatest singer in the world!
I walked up to him like a high school kid and said something really lame like "Hi Robin, I'm a huge fan. I think you are the best singer in the world. Can I take my picture with you?"
Robin: " sure, no problem"
Me: "Is Bun E. playing tonite?"
Robin: "No, he's in a convalescent home. We are all old men. Dax Nielson is playing with us tonite"
Me: "I know" (trying to sound smart, not realizing I just asked if Bun E. was playing the show)
Me: "The last 3 Cheap Trick records are 3 of the best records ever made. I especially like Special One"
Robin:  "Thanks"
Me: "Have a great set tonite"
I go find my friend Jasper and tell him I just met Robin Zander. He flips out and runs up to Robin and geeks out even more than me. We continue to snap pictures with the greatest singer in the world. He was really nice to us, as he could tell we were worshiping the ground he walked on.
That night at the show, we arrive just as they are getting ready to start. The place is packed. I mean like 10,000 people packed. We fight our way through the crowd to somewhere near the sound booth. Jasper recognizes the sound man as a guy from Detroit from the band Speedball. He jumps the barrier to the soundboard, lands flat on his face, then gets up and goes to the sound guy and says something. He runs back to us and says "It's cool, come on over the baricade!" So we watched the entire show from the comfort of the soundbooth area!
I'm trying to film several songs and each time, Jasper is shoving me, trying to screw up my shots and yelling "CHEAP TRICK!".
All in all, a great time was had.
Cheap Trick played almost no hits, with the exception of I Want You To Want Me, Surrender and Dream Police. They sounded fantastic, even without Bun E. in the band. Included in the set was a nice tribute to Alex Chilton, with the songs Sleep Forever and Heaven Tonite.

Related posts:
Cheap Trick's Rick Nielson – "The Rock n Roll Hall of Fame Would Be Lucky To Have Us"
Rock and Roll Geek Show 386 – Ass Kissing With Butler
Rock and Roll Geek Hall of Fame Induction – RnR Geek Show 373
Podcast: Play in new window | Download
Subscribe: iTunes | Android | RSS
Think you've got the chops to keep up with Joey Kramer? Hit Hard gives you the chance to prove it! See if you have the rhythm to match the Kramedog! Step up to the kit with Aerosmith's Joey Kramer and put your skills to the test.
Hit Hard gives you fifteen levels of Joey's favorite beats to compete on as you rock for your spot at the top. Check out the interactive leader board for scores from iPhones and iPod Touches from around the globe. The top rocker of each month gets a prize straight out of Joey Kramer's vault.
On Friday at SXSW, we were invited to a meet and greet with the band Bomba Estereo by Sonia at  Cornerstone Promotion. As the guy who programs music at Mevio, I get a lot of invites like this. Most are just links to the band's album, etc with hopes that you will write something good about the band or play them on the show. So we were at the Levi's Fader Fort anyway and  since there was free beer and Southern Comfort provided ,  we figured we might as well hang out backstage and avoid the crowds.
So we go to the press line and give them our names. There are about 10 or so press people and we are all met by a nice woman named Sonia Aneja. She walked us all backstage where there was free alcohol. We hung around there for around an hour. While backstage we pretty much just drank and people watched. I noticed an attractive latino girl wearing knee high gold lame Converses and commented to my friend Jasper who does Good Clean Fun with me that I liked the girl's outfit. 2 minutes later she was on stage rocking out with Bomba Estereo. Her name is Li Saumet and she reminded me a little of Annabella Lwin from Bow Wow Wow. The band was probably the only band of the day that actually had the hipster Fader Fort crowd dancing.
After their set, we were led to a room where the band was meeting the press and doing interviews. Also in the room was a huge spread of great Mexican food, beer and gift bags for everyone containing free Levi's, free meal tickets and lots of other great swag. We planned on interviewing the band but their manager didn't think we were a big enough outlet to interview the band. I don't care. The amount of great treatment from Sonia and the people at Cornerstone more than made up for it.
And, while not the type of rock I am usually into, the band were very good despite their manager. If you like good Latino flavored dance music, go buy their record. You will probably be hearing a lot more from this band and you heard it here first, friends.
So let this be a lesson to ALL pr companies out there: Take lessons from the fine folks at Cornerstone Promotion. Treat the press well and they will love your bands.
PHOTOS BY PHILLIP ANGERT – WEBSITE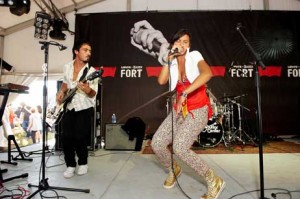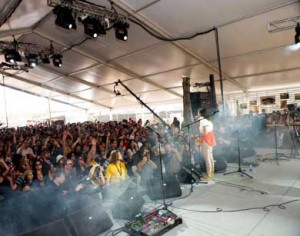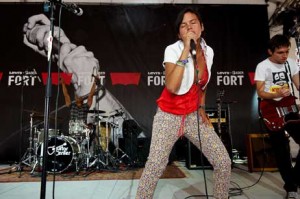 Michael Monroe performs 3 songs live at South by Southwest 2010 on Saturday, March 20th, 2010
On this video they play
Nothin's Alright
Motorvatin
Hammersmith Palais
The show was fantastic. They went on at 1 am and blew the roof off of the place!

Open in Your Favorite Player
Podcast: Play in new window | Download
Subscribe: iTunes | Android | RSS
Here is footage of Billie Joe Armstrong from Green Day's induction speech for The Stooges at the Rock and Roll Hall of Fame. In the speech he quotes one of the best rock books, Please Kill Me. The quote is from The DIctators' Scott Kempner. Of course the Stooges deserve to be in the Hall but it's still a joke (until Alice Cooper, Kiss, Joan Jett, Kiss and Suzi Quatro are inducted) Also in the video is Billy Joe performing I Wanna Be Your Dog with the Stooges. During the performance, Iggy invites the entire crowd  onstage. Watch for lots of industry douchebags near the end.