This is a midweek bonus episode of the Rock and Roll Geek Show. As you probably know by now, I was in London, England a couple of weeks ago for the Ginger birthday bash thanks to Alex from Bathroom Wall and Phil from the Paranoid Squirrel podcast and while I was there, I wandered around the streets of London by myself with a microphone strapped to me. This is what took place while the mic was on. [Read more]
Podcast: Play in new window | Download
Subscribe: iTunes | Android | RSS
On this show I do a recap of my trip to London, England to play bass for Ginger's Birthday Bash at the Garage on December 17th, 2009. I also throw in some music by some of the guests that played at the concert as well.
Music from [Read more]
Podcast: Play in new window | Download
Subscribe: iTunes | Android | RSS
I had a lunch meeting with Rod Weinberg, one of the authors of a great book I'm reading called Rock Roadie. The lunch was at a place in SOHO called The Groucho Club. This apparently is a private club for people who work in British TV and radio. Phil dropped me off at the train station and pointed me in the direction of Charing Cross station and sent me on my way.
I recorded a Driving With Butler once I got on the train. Hopefully it will turn out ok. There don't seem to be as many freaks in London as in SF but SOHO was pretty fun to walk around in. I got off the train ok but immediately got lost. Once I pulled up the google maps on the ridiculously priced AT&T data plan ($60 a month for 50 mb) I found my way to the Groucho Club pretty easily.
I was about 40 minutes early so I walked around the neighborhood for a while. There were tons of licensed sex shops everywhere as well as strip clubs. I didn't go into any strip clubs but next door to one was a peep show place where you drop £2 on the slot and watch a totally nude girl stand there behind a 9 inch window for 1 minute. There were a total of like 4 booths, 2 booths per "dancer". Both dancers looked ok and completely disinterested. I spent a total of 4 £2 coins and then headed to the Groucho Club to meet Rod Weinberg. He was a really nice portly gentleman who looked a little like Santa Claus. We had a nice lunch. I had smoked trout over green beans with an appetizer that had shrimp in the name but looked like cat food. It was actually pretty good but as it was going down I felt an immodium moment coming on. Luckily I had one left on me but still had to excuse myself to make a mad dash to the bathroom with no paper towels. (only hand driers.). Back to Rod, once the emergency was over, we had a great chat about the book and his knowledge of rock history. He was older than me so it was quite an educational lunch. Among other things, he told me in great detail how Hendrix really died. I'm not a huge Hendrix fan but it was still quite fascinating.
It was a 2:00 load in at the Garage, so I needed to get going.
(note: I'm now finishing this post after about 12 beers so please pardon the miss spellings and bad grammar)
Rod gave me a ride in his jaguar to the train station where I headed to the club. I got there about 3 pm and they were still setting up so I went to the Famous Cock pub with Phil and hung out with a bunch of Ginger fans who were drinking before the show. Also there was Nigel Mogg and a couple of RnR Geek friends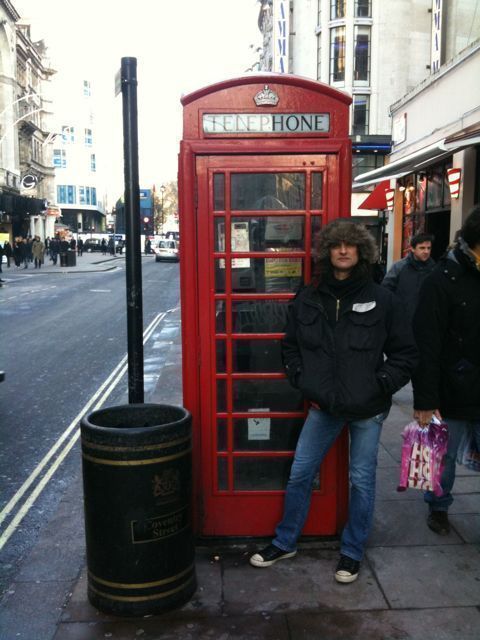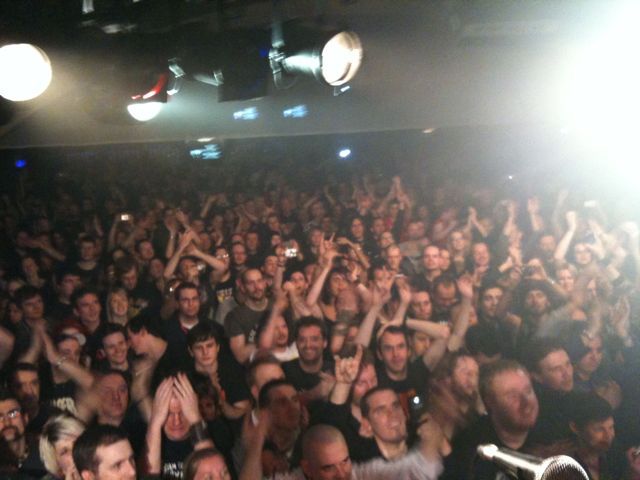 So I arrived in London pretty well rested. I took a sleeping pill on the plane, had a beer with my new Indian friend and then passed out. I got into London around 9:30 am, got my bass and made it through customs with no problems. I was greeted by Alex (sleazyrocknroll), who drove me through the snow straight to rehearsals at Bush Studios. When I got there, I was greeted by Ginger, Gav, Scott Sorry, Victoria (one of the guest singers), Duncan (Wildhearts guitar tech) and a guy named Rev from Towers of London.
Scott left shortly after, leaving me as the only bass player of the day. Fine with me. The more songs I got to play the better. Other musicians that showed up were Denzel(a fantastic drummer), Willie Dowling, Olga from the Toy Dolls, Chris McCormick from 3 Colors Red,Nathan from Snow Patrol and a beautiful female singer named Harry. I could not believe I was surrounded by so much amazing talent in one room.
After about 4 fun filled hours of rock, we headed down to the corner pub where, while I waited for Phil to come by to take me on the train, I showered everyone there with fanboy questions.
After Phil showed up we headed on the train to his place out in Beckenham, former home town of Bowie, Peter Frampton, Billy Idol. Phil's family is really sweet and kind. They gave me my own attic suite comlete with a Christmas tree.
I slept pretty well but kept waking up with thoughts of my day ahead of me.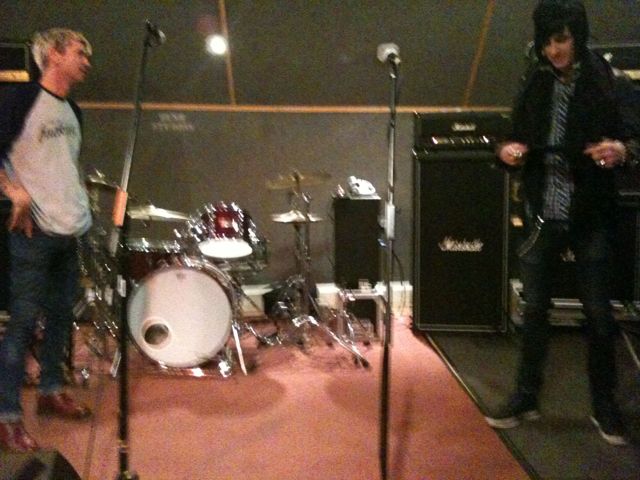 I used the power of positive thinking to will a hot girl to be seated next to me on the flight to London. Here she is!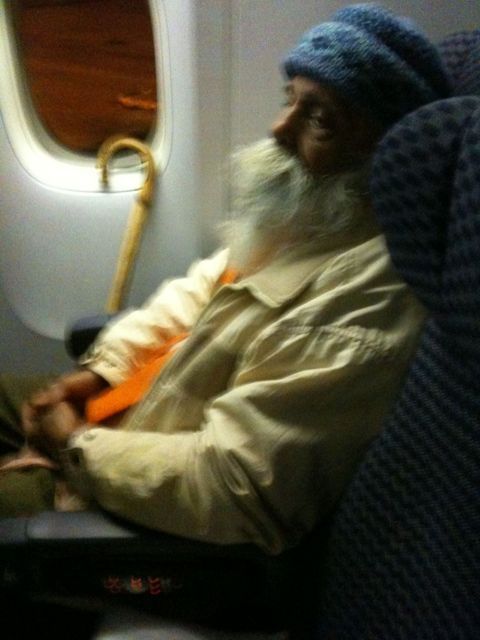 Today I head over to London, England to play 7 songs at Ginger's birthday show. I'm typing this post on my phone from my plane seat so pardon the typos.
I chose to do some songs that I'd never played before to make the gig a little more interesting. One of those is a Clam Abuse song, which as far as I can tell, has no bass guitar but is one of my favorite songs in Ginger's catalog. I learned it in standard tuning in the key of b. That seemed to me to be right cause it sounded like it had an open e in the song. To be safe I asked my friend Alex Kane, who is playing the song as well, what key it was in. I asked him weeks ago but he said he didn't remember. Well I finally heard back from him this morning that the song was played in a totally different key then sped up on tape. Huh? So this meant I had to sit down and re-learn the song this morning 30 minutes before I had to leave for the airport. I think I have it pretty much figured out in the different key but just to be safe, I learned it in 3 different keys so I don't come off as an idiot at the gig. According to the rehearsal schedule I saw, they are rehearsing this song today without me. I don't arrive till Wed morning and head straight to rehearsals after I clear customs. Hopefully I can sit down with Alex before the gig and run through that song once.
I'm being picked up at the airport Byatt different Alex(the guy who makes my RnR Geek clothing line and Bathroom Wall Ts) and Phil (who does the Paranoid Squirrel podcast), two guys I've only met online in the rnr geek forums They also organized the Throw Michael On A Plane fundraiser that made this trip possible.
This promises to be quite an adventure. I'm gonna try to do as many short update podcasts as I can while I'm here. I didn't bring my portable podcast setup but did bring the XtremeMac Micromemo and my Kodak Zi8 video camera with my wireless setup.
The waitress is here with my Heinekin now so Im gonna sign off for now, friends.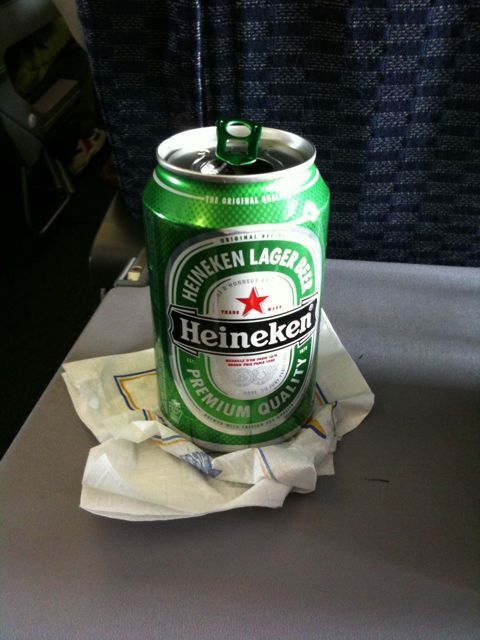 On this show I play a ton of audio comments including a Megadeth Show review, an on the scene of the Joe Perry Project show with roving reporter Jamie from Orlando and a Kiss Show review. I do a douchebag of the week segment and a new Paul Stanley Rap of the week. All that and the usual train wreck bullshit from yours truly. [Read more]
Podcast: Play in new window | Download
Subscribe: iTunes | Android | RSS
Richie Ranno from Starz comes on the show and we take an in-depth look at their 1978 album Attention Shoppers!
We go track by track and find out all of the behind the scenes dirt on each song. Richie holds nothing back. If you don't have this album in your record collection, you need to go get it today. [Read more]
Podcast: Play in new window | Download
Subscribe: iTunes | Android | RSS

Open in Your Favorite Player
[Read more]
Podcast: Play in new window | Download