On this show I do another Classic Albums Revisited. This time it is the first self titled release from Tsar and to help me do it, I have the singer/songwriter/frontman of Tsar, Jeff Whalen. We break each song down track by track and talk about them. Before the track by track we also talk about the history of the band, what happened when they were about to get signed by Hollywood Records, The early days of Tsar befor they had the name and lots more. Jeff is quite the character with a great sense of humor and it was great to speak with him. [Read more]
Podcast: Play in new window | Download
Subscribe: iTunes | Android | RSS
Andy McCoy checks in from his home in Helsinki, Finland and gives us an update on things he has going on. Andy McCoy is always an interesting character. If you don't have his book, Sheriff McCoy, you should definitely pick it up. It is full of great rock n roll stories.
His updates include:
The weather
His Art Exhibition – Last week of May. He will be showing 22-24 pieces
His studio projects
His upcoming solo album – He is singing about half the songs.
Tour plans – not till fall at the earliest except for some acoustic one-off shows.
He plugs the paperback release of his book.
He closes out with a little bit of playing on acoustic guitar.
WELL WORTH WATCHING!
WATCH THE RUNAWAYS EXCLUSIVE NEW MOVIE TRAILER
Starring Kristen Stewart and Dakota Fanning, the film follows two friends, Joan Jett and Cherie Curie, as they rise from rebellious Southern California kids to rock stars of the now legendary group that paved the way for future generations of girl bands. (out March 19th nationwide)
If you have not heard our reading of the screenplay on Good Clean Fun, check it out here
Ok, I'm gonna start a rumor here, I have no facts to back it up, other than the fact that in this video, where the guys in Aerosmith announce their "Cocked,Loaded and Ready To Rock" tour, one member is not present. Where is Brad Whitford?
To further my idiotic conspiracy theory, when I saw Aerosmith perform at the Oracle party in San Francisco last year, Steven Tyler introduced everyone in the band including keyboard player Russ Irwin. But  for some reason he did not introduce Brad Whitford.
Here  is the transcript of the video:
Joe Perry: We're Aerosmith and you know what? The rumors are true…… I think.
Steven Tyler: You think?  I just auditioned and I got the gig. We're coming your way and rocking your world. Look out baby cause here we come again!
Tom Hamilton and Joey Kramer apparently thought he said something hilarious because they laughed their asses off.
Meanwhile, Joe is texting or twittering on his blackberry.
And what is with the hat on Tyler's head?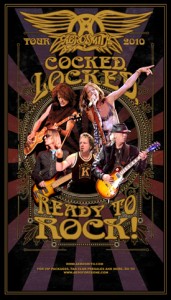 And to shoot down my rumor, here is the official press release:
Aerosmith – the biggest, most enduring and thrilling band in rock history will make a spectacular return to the UK and Europe this summer with the COCKED, LOCKED, READY TO ROCK TOUR! spawning what will be the ultimate music event of the new decade.
"Back by popular demand with more spit and fire than ever before, we're coming across the pond and parting the waters as we go," says Steven Tyler.
"Aerosmith is going to be rocking in the UK and Europe this summer," adds Joe Perry. "Enough BS – we're coming and everything is going to be set at eleven."
Band members Steven Tyler, Joe Perry, Brad Whitford, Tom Hamilton and Joey Kramer will hit Europe for the first time in three years to deliver a fistful of knockout, heart pounding, headline summer rock shows:
Sweden – Rock Festival – June 10th
UK – Download Festival – June 13th
UK – London 02 Arena – June 15th
Romania – Bucharest – June 18th
Greece – Athens Olympic Stadium – June 20th
Holland – Nijmegen Goeffert Park – June 23rd
Belgium – Graspop Festival – June 25th
Spain – Barcelona St Jordi Arena – June 27th
France – Paris Bercy Arena – June 29th
Czech Republic – Prague 02 Arena – July 1st
Italy – Venice Festival – July 3rd
For more than 30 years Aerosmith, four time Grammy winners, Rock and Roll Hall of Fame inductees   (2001), recipients of 12 MTV VIdeo Awards and countless other awards have performed electrifying sold out concerts around the world for decades along with selling well over 150 million albums.
Drummer Joey Kramer says, "Aerosmith is back! Bigger, better and stronger than ever!  So look out Europe, 'cuz we're comin' to get cha."
Guitarist Brad Whitford added, "I'm not sure who is happier, the band or the fans.  Can't wait to get started. We'll see you this summer."
The Sweden Rock Festival is the band's first European date and they can not wait to uncork the tour in Solvesborg on June 10th.
Aerosmith and their shared passion and commitment to continue to rock the world will play ten other European shows including what is set to be a phenomenal and unforgettable return to the main stage at Donington Park for the first time in 16 years, where they join Download Festival co-headliners Rage Against The Machine and AC/DC on June 13th.
The tour then hits London's 02 arena before making its way across mainland Europe playing shows including Bucharest, Athens, Barcelona and Paris before finally finishing up in Venice on July 3rd.
VIP experience packages (which may include opportunities to meet band members, backstage tours, early entry passes, premium seating and/or merchandise) are available through www.AeroForceOne.com. Fans without internet access can call +1 508-791-2852 in the US 9am – 9pm EDT.
The last time Aerosmith toured, you could meet Joe and Steven for the low price of over $1400.00
When I heard that Doug Fieger passed away on Feb 14, 2010, I got really sad. I met him back in 2006 when I covered the Rock and Roll Fantasy Camp for the show and he seemed like a really nice guy. Of all the people at that thing, he was my favorite. Most people wrote off The Knack as a one hit wonder or a novelty band or something like that. [Read more]
Podcast: Play in new window | Download
Subscribe: iTunes | Android | RSS
Recipe after the break [Read more]
Sam Levin shows an iPhone app called AutoPark
On Saturday Feb 6, 2010 , I interviewed Anvil at the Fillmore Auditorium in San Francisco. They've been touring pretty much non-stop since the documentary "The Story of Anvil" came out. I brought along Eddie Daroza, who ran the camera for me.
Thanks to super producer Shane Chisholm and Julie Ark for lining up the interview for me. [Read more]
Podcast: Play in new window | Download
Subscribe: iTunes | Android | RSS
Michael Butler interviews the Guitar Tuner creator.