An interview with Doc Neeson from The Angels. Taken place 3 days after their Face to Face 30th Anniversary Tour
Show notes and links coming soon. I am posting this from Rock The Bayou
Podcast: Play in new window | Download
Subscribe: iTunes | Android | RSS
Image via Wikipedia From Billboard.com
Federal authorities say they have arrested a blogger suspected of streaming songs from Guns N' Roses unreleased album, "Chinese Democracy," on his Web site.
FBI agents arrested 27-year-old Kevin Cogill this morning (Aug. 27) on suspicion of violating federal copyright laws. Federal authorities say Cogill posted nine unreleased Guns N' Roses songs on Antiquiet.com in June. The songs were later removed but spread quickly across the Internet.
According to an arrest affidavit, Cogill admitted to agents that he posted the songs on his Web site.
"Chinese Democracy" has been in the works for more than a decade, with frontman Axl Rose the only remaining original member of the once mighty group. Rumblings that the album may finally be out this fall, possibly as a Best Buy exclusive, have not been confirmed by Guns N' Roses or its management.
This is usless I know but for bored people, here is a picture of my desk at work. I am counting the hours till Rock The Bayou.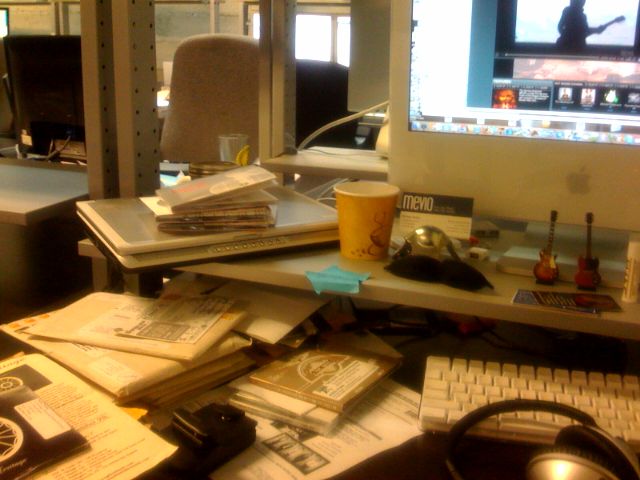 This is Molly, I'll be posting on here now. If you want to get an idea who I am you can check out my website at FunnyHairpin.com. To get things rolling here's one of my latest musical finds.
I just discovered Morningwood's new EP, Sugarbaby. It's totally chick rock and I love it.
You may know their song "Nth Degree" from their last album, if nothing else you heard it on the Nissan commercial. I kinda liked the self-titled album, but I'm ADORING the new EP. Much more rock and way less schizophrenic.
Even better is the video, featuring a Muppet like you've never seen.
And if you'd prefer, there is a "clean" version. But who'd want that?
This sad news comes from Fivehundy in the forums
:
Steve Foley, best known as the drummer who replaced Chris Mars in The Replacements, died over the weekend of a prescription drug overdose. Foley also played drums in Tommy Stinson's first post-Mats project, Bash and Pop, and several other Minneapolis bands, including Swing Set, Wheelo and The Overtones.
Butler Note: From everything I read about him, he seemed to have it together pretty well so this is a huge surprise to me and makes me extremely sad. The Bash and Pop record is one of my favorite records.
Jasper and Michael Shoot the Sh*t.
Jasper calls The Rock and Roll Phoney and the show gets REALLY uncomfortable.
iJustine calls in and flirts with the Rock and Roll Phoney
Molly from FunnyHairpin.com calls in and flirts with Jasper
Music by: Jethro Tull The Hives Van Halen Marvelous 3
Drag this link to iTunes or whatever podcatcher you use to subscribe [Read more]
Jasper and I will be doing another Good Clean Fun show tonite at around 7pm PST. We will be showing the classic Horror/Sci-fi film FROM BEYOND as the pre-show entertainment about 5:45 PST. As usual, there will be a live chat
http://www.goodcleanfunlive.com
http://www.rockandrollgeek.com [Read more]
Topics: The Bizarro Rock n Roll Geek – Metal Masters Tour Concert Reviews – Kid Rock/Lynyrd Skynyrd Concert Review – Emails.
Music from Backyard Babies – Motorhead – Rick Dufay – AC/DC [Read more]
Podcast: Play in new window | Download
Subscribe: iTunes | Android | RSS
New Media Expo 2008, Rock and Roll Geek Imposter Exposed, Robert Scoble, iJustine, Wizzard Media, Paul Colligan, Todd Cochrane, CC Chapman, Michael Geoghegan
Reanimator Review sponsored by Thomas Video.
Music by New York Dolls, Airbourne and Ramones.

Drag this link to iTunes or whatever podcatcher you use to subscribe [Read more]
If all goes as planned, Jasper and I will be doing a Good Clean Fun show live tonite at 7pm with a preshow movie called Reanimator at 5:30. We will be reviewing the movie later on in the show so tune in early so you can play along at home. As usual, there will also be a live chat.