Song Dedications for friends of the show. Thanks to Daniel Segan and Chrs Capelle for the Beer Fund donations this week. Also discussed on the show: Chrissie Amphlett beats cancer. Lita Ford's "ugly divorce" from Jim Gillette. A new Classic Album suggestion. Douchebag Clip of The Week. Bad prank phone call.
Podcast: Play in new window | Download
Subscribe: iTunes | Android | RSS

A new track called "Scmfuk" from Sum 41's forthcoming release has just surfaced. The song will appear on the band's sixth studio album, Screaming Bloody Murder, which is due out early next year. Sum 41 was recently forced to cancel a number of dates on the Vans Warped Tour due to a random attack on frontman Deryck Whibley.
In the coming months, Sum 41 will head overseas for a number of dates and will also be headlining the Eastpak tour this fall. Visit Sum41.com for more information.
Upcoming Tour Dates:
8/31 – Les Docks – Switzerland
9/02 – Maroquinerie – Paris
9/03 – Crammerock Festival – Belgium
9/04 – I-Day Festival – Bologna, Italy
9/06 – Lowensaal – Nurnberg
9/07 – Roxy – Czech Republic
9/08 – Roxy – Czech Republic
9/10 – Glav Club – St Petersburg Russia
9/11 – B1 Maximum – Moscow, Russia
9/12 – Tele-Club – Russia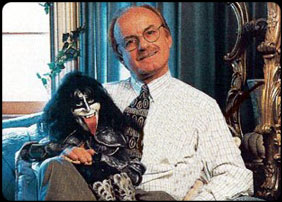 I just found out that the legendary Bill Aucoin has died of cancer at his home in Florida. Man, that sucks. He managed Kiss, Billy Idol, Piper, Lordi, Flipp, and one of my favorite bands of all time, STARZ. The guy was in the trenches during the best time in rock. Here is a link to an interview I did with him a few years ago.
Podcast: Play in new window | Download
Subscribe: iTunes | Android | RSS
The greatest singer in rock has a new album coming out! Robin Zander recorded a bunch of songs he wrote alongwith some classics.

From Cheap Trick's Website:
What do a handful of Nashville's premiere session players, the singer from Cheap Trick, the drummer from Neil Young & The Bluenotes, the Warren Brothers, Producer Chris Lindsey, Tim McGraw's recording team, Nashville's newest star, Sarah Buxton, Executive Producer Bill Edwards and Big 3 records have in common?
COUNTRYSIDE BLVD.
That's the title of the record.
COUNTRYSIDE
That's the name of the band.
This unique group of musicians, songwriters, and singers gathered in Nashville last year and recorded 12 songs. In that place and time they have captured a fresh country sound with a combination of musical styles.
The songs were written and sung by Robin Zander along with a few classics.  The album features Sarah Buxton, Tom Bukovac, Pat Buchanan, Chad Cromwell, J.T. Corenflos, Dan Dugmore, Tim Lauer, Glen Worf, Larry Franklin, Perry Coleman, Robin T. Zander and the Countryside Singers.
"I'm hopeful that when people discover this album that it's as fun to listen to as it was to record" states Sara Buxton.
"I've always wanted to do a record in Nashville and this is it." says Robin Zander, "To have these musicians of this caliber record my songs for COUNTRYSIDE BLVD was one experience I won't soon forget. Thanks to all for doing one hell of a record."
Michael Monroe was joined onstage last night in Helsinki, Finland by original Hanoi Rocks guitarist Nasty Suicide. He joined the band onstage for a rocking version of The Stooges' I Feel Alright(1970). If I'm not mistaken, this is the first time they've played together onstage since Demolition 23. Correct me if I'm wrong. If you have not seen Michael Monroe's band, which consists of Ginger (Wildhearts) on guitar, Steve Conte(NY Dolls) on guitar, Sam Yaffa(NY Dolls, Hanoi Rocks, Jetboy) on bass and Karl Rockfist (CHELSEA SMILES, DANZIG) on drums, you are missing one of the best live rock shows you will see all year.
You can read the tour blog at Michael Monroe's myspace right HERE
RELATED POSTS:
Michael Monroe at SXSW
Michael Monroe Interview
Classic Albums Revisited – Demolition 23
Great News! Ted Nugent has been confirmed as the headliner on the main stage at this year's Benton Franklin Fair & Rodeo in Kennewick, Washington.
The fair will be held August 24-28 at the Kennewick fairgrounds on 10th Avenue and Chemical Drive, with Nugent scheduled to perform on August 26. Get your tickets now because they are going fast! Can someone please tell me who's playing the side stages?
Find out more at http://www.bffairrodeo.com/entertainment.html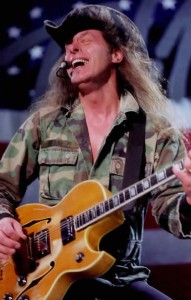 Ginger releases a new solo song called "Patience and Gratitude" as a video exclusively on Youtube.
It is a mostly intstrumental song except for the chorus which contains the lyrics
"All of the will in the world will come to you someday
And all the love in the world will come to you someday"
The video features images of ducks in a park, nice nature shots and other pleasant images. It is a little like something from The Secret which I'm pretty sure is working quite well for Ginger.
I really like the song a lot. It is uplifting and if you are having a crappy day, watch this. I think it may brighten it.
Ginger is getting ready to go on tour as guitarist for the great Michael Monroe. Tour dates after the video below:
Tour
Andy McCoy checks in from his home in Helsinki, Finland and gives us an update on things he has going on. Andy McCoy is always an interesting character. If you don't have his book, Sheriff McCoy, you should definitely pick it up. It is full of great rock n roll stories.
His updates include:
The weather
His Art Exhibition – Last week of May. He will be showing 22-24 pieces
His studio projects
His upcoming solo album – He is singing about half the songs.
Tour plans – not till fall at the earliest except for some acoustic one-off shows.
He plugs the paperback release of his book.
He closes out with a little bit of playing on acoustic guitar.
WELL WORTH WATCHING!
WATCH THE RUNAWAYS EXCLUSIVE NEW MOVIE TRAILER
Starring Kristen Stewart and Dakota Fanning, the film follows two friends, Joan Jett and Cherie Curie, as they rise from rebellious Southern California kids to rock stars of the now legendary group that paved the way for future generations of girl bands. (out March 19th nationwide)
If you have not heard our reading of the screenplay on Good Clean Fun, check it out here
Ok, I'm gonna start a rumor here, I have no facts to back it up, other than the fact that in this video, where the guys in Aerosmith announce their "Cocked,Loaded and Ready To Rock" tour, one member is not present. Where is Brad Whitford?
To further my idiotic conspiracy theory, when I saw Aerosmith perform at the Oracle party in San Francisco last year, Steven Tyler introduced everyone in the band including keyboard player Russ Irwin. But  for some reason he did not introduce Brad Whitford.
Here  is the transcript of the video:
Joe Perry: We're Aerosmith and you know what? The rumors are true…… I think.
Steven Tyler: You think?  I just auditioned and I got the gig. We're coming your way and rocking your world. Look out baby cause here we come again!
Tom Hamilton and Joey Kramer apparently thought he said something hilarious because they laughed their asses off.
Meanwhile, Joe is texting or twittering on his blackberry.
And what is with the hat on Tyler's head?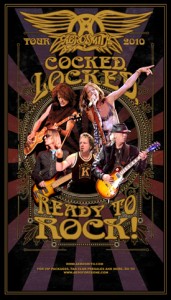 And to shoot down my rumor, here is the official press release:
Aerosmith – the biggest, most enduring and thrilling band in rock history will make a spectacular return to the UK and Europe this summer with the COCKED, LOCKED, READY TO ROCK TOUR! spawning what will be the ultimate music event of the new decade.
"Back by popular demand with more spit and fire than ever before, we're coming across the pond and parting the waters as we go," says Steven Tyler.
"Aerosmith is going to be rocking in the UK and Europe this summer," adds Joe Perry. "Enough BS – we're coming and everything is going to be set at eleven."
Band members Steven Tyler, Joe Perry, Brad Whitford, Tom Hamilton and Joey Kramer will hit Europe for the first time in three years to deliver a fistful of knockout, heart pounding, headline summer rock shows:
Sweden – Rock Festival – June 10th
UK – Download Festival – June 13th
UK – London 02 Arena – June 15th
Romania – Bucharest – June 18th
Greece – Athens Olympic Stadium – June 20th
Holland – Nijmegen Goeffert Park – June 23rd
Belgium – Graspop Festival – June 25th
Spain – Barcelona St Jordi Arena – June 27th
France – Paris Bercy Arena – June 29th
Czech Republic – Prague 02 Arena – July 1st
Italy – Venice Festival – July 3rd
For more than 30 years Aerosmith, four time Grammy winners, Rock and Roll Hall of Fame inductees   (2001), recipients of 12 MTV VIdeo Awards and countless other awards have performed electrifying sold out concerts around the world for decades along with selling well over 150 million albums.
Drummer Joey Kramer says, "Aerosmith is back! Bigger, better and stronger than ever!  So look out Europe, 'cuz we're comin' to get cha."
Guitarist Brad Whitford added, "I'm not sure who is happier, the band or the fans.  Can't wait to get started. We'll see you this summer."
The Sweden Rock Festival is the band's first European date and they can not wait to uncork the tour in Solvesborg on June 10th.
Aerosmith and their shared passion and commitment to continue to rock the world will play ten other European shows including what is set to be a phenomenal and unforgettable return to the main stage at Donington Park for the first time in 16 years, where they join Download Festival co-headliners Rage Against The Machine and AC/DC on June 13th.
The tour then hits London's 02 arena before making its way across mainland Europe playing shows including Bucharest, Athens, Barcelona and Paris before finally finishing up in Venice on July 3rd.
VIP experience packages (which may include opportunities to meet band members, backstage tours, early entry passes, premium seating and/or merchandise) are available through www.AeroForceOne.com. Fans without internet access can call +1 508-791-2852 in the US 9am – 9pm EDT.
The last time Aerosmith toured, you could meet Joe and Steven for the low price of over $1400.00