P4270044.jpg
Originally uploaded by Michael Butler.

I am not ashamed to say it. I like ZZ Top. Billy Gibbons is one of the greatest living guitarists. He was ripping and made it look effortless. Saw them last nite. We couldn't get an interview but did manage to talk our way into the show.



IMG_0776.jpg

Originally uploaded by Michael Butler.

I got denied an interview with Vince Neil. Look how many people are in line to have shit signed……none


An Interview with Holly Beth Vincent
We do a career retrospective and play some songs spanning her career.
Holly's Myspace
Holly & The Italians Myspace
Click Here for mp3
Purchase the new record on iTunes

Podcast: Play in new window | Download
Subscribe: iTunes | Android | RSS
Prattitude in the Forums created a Rock and Roll Geeks group on Last.fm.
If you have good taste in music, feel free to join.
After 2 years of having a show on Adam Curry's Podshow on Sirius Channel 102, Podshow and Sirius have terminated their relationship.
It was pretty cool to say I had a show on Sirius, even if no one listened. And it definitely didn't hurt in getting interviews.
I am pretty bummed out but it was bound to happen sooner or later. 2 years was a pretty good run. I will do my best to continue to get quality guests on the show. (Actually, Shane will)
Joe Klein sits in on this show.
Topics:
Week in Rock
Listening With Butler – Noush Skaugen
A reading of the VA Tech Killer's GnR play
Paul Stanley hates digital downloads
Runaways Movie
Cheap Trick Sgt Pepper
Audio Comment
Listener Emails
Music:
New Manic Street Preachers
American Heartbreak
Holly and The Italians
Click Here for mp3
I hope you can join me for another live show and chat on Saturday at 6pm PST. I'll be streaming music and maybe some old RnR Geek Shows all day.
I won't be doing a live show next week so I hope to see you here. Send requests to petewayismydad@gmail.com
My friend Ace from Reality Check TV sits in on this show.
Topics:
Rock and Roll Birthdays and Deaths
Gene Simmons Family Jewels
Two Listening With Butler Segments
1. The New Wildhearts Single Purchase on UK iTunes
2. The Specialist- Podsafe Music Network Link
Bulletin Board Topics
Music:
Generation X Purchase on iTunes
Michael Monroe
Sea Hags
New Ozzy
Click Here for mp3
I plan on doing a live show and chat on Saturday at around 6 pm PST. I hope you can join me here.
A Tour of American Heartbreak's Rehearsal Studio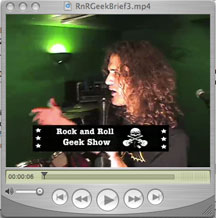 Open in your favorite player